XS Las Vegas Bottle Service

Ask anyone who really knows their way around the our nightlife scene and they'll tell you that the purchase of XS Las Vegas bottle service is probably the very best option for your clubbing experience the city has to offer. If you have a chance, just go. Stop reading, don't let us spoil the experience for you, book your table, and see what all the fuss is about.
If you're still reading, then obviously you need a little bit of convincing about the perks of attending XS nightclub. Here's the convenient, bullet-pointed list of features that make the XS bottle service so special:
Top DJ's and performers, including Zedd, Diplo, Slander, Skrillex, and Manufactured Superstars
Pools lit by heat lamp create a warm and classy experience
Cabanas and daybeds surround the pool area
Expert, attentive bartenders
Intense light shows
Blackjack tables so you can game right in the club
Incredible VIP spots
The problem is that this list applies to a lot of clubs, doesn't it? It's hard to explain what really sets the XS Las Vegas bottle service apart from other clubs, but if we can try to sum it up, it's the whole experience, and the experience starts before you even arrive.
The experience starts when you decide that you'd like to check the XS nightclub Las Vegas out. The easiest way to find the club when you're at the Encore Hotel: look for red furnishings. It may seem like a small thing, but all the red furnishings, they trigger something in your brain; they let you know that you're in for a wild night with XS bottle service. As the red furnishings become more frequent on your way to the club, there's that sense of anticipation and excitement when you realize you're on the right track, when you hear the music swelling through the walls.
XS nightclub was owned in part by famed movie producer Victor Drai, and he knows a little something about entertainment: you don't just put all the good stuff right up front, you have a first act where you get your audience settled into the world you've created for them, and you start to build suspense, and then things really start to pop off.
And like a good movie, what is a great first act without a great story and a great climax? From the time you start seeking XS Las Vegas bottle service out to your arrival on the dance floor to the killer performances and light shows that close out the evening, club XS hardly feels real, it's like living in the movies, and you just have to experience it to know what we're talking about. Once you have finally experienced its always good option to take it several steps further into the rabbit hole and enjoy Intrigue Las Vegas bottle service at the Wynn Hotel and Casino.
XS nightclub packages
XS Las Vegas Bottle Service Events
XS Las Vegas is currently open to the public weekly on Monday & Friday-Sunday from 10:30pm-4am. Often booking commercial acts Friday-Sunday nights like Zedd David Guetta & Diplo so they stayed packed on a regular basis. XS nightclub is now known as the #1 destination for Top 40/Hip Hop in sin city. XS bottle service is a great option for any weekend or Holiday plans. Our staff always ensures you have the best locations and pricing possible.
XS nightclub Las Vegas video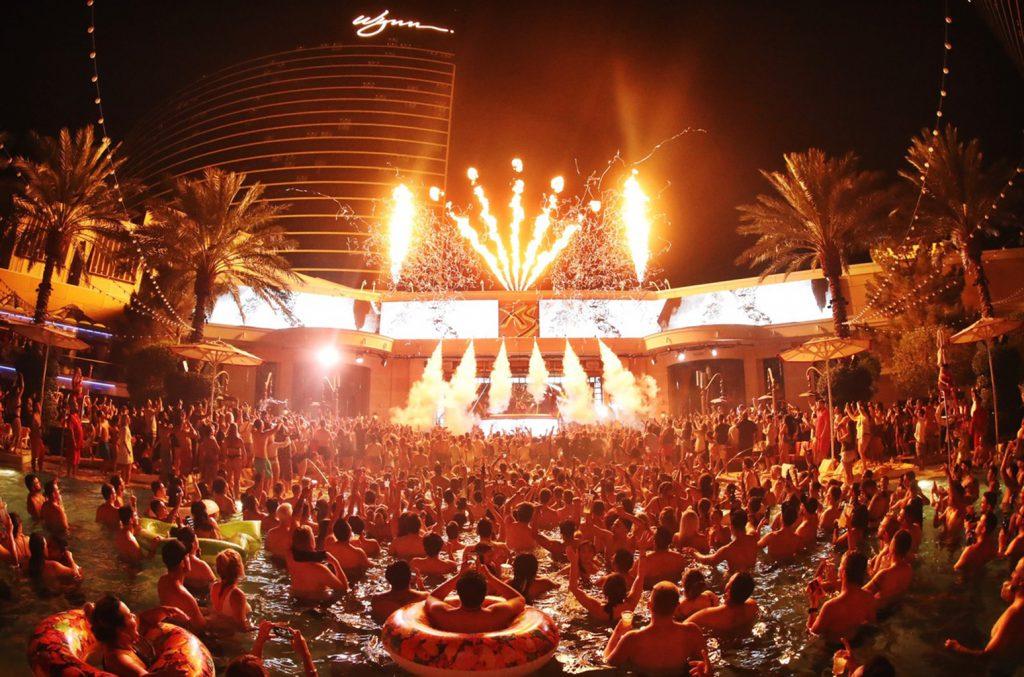 XS Las Vegas is amazing and I now know why they are #1 in the nation. We planned ahead several months with Troy for bottle service because I worried about getting into a club XS given its so popular. The Sunday night swim party is everything I thought it would be from the Dj Major Lazer, Sound system, GIRLS and service. It was hard to decide if I wanted to do XS Las Vegas bottle service inside the club fully suited or at a cabana outside so I can jump in the pool. We went for the pool and all I remember after 2am was on a shark float with a shot glass hand that never made it to my mouth!!
Mike Baeta
I planned my friends Bachelor party around XS nightclub, as we were all major fans of Diplo. We reached out to several companies but became annoyed with the response time on callbacks and quotes until we got with Troy to book our bottle service package. They had great customer service and had answers to all my questions. The final spend was below our budget and we had great table placement at XS nightclub Las Vegas. Expect another call from us next summer
Gene Samuel
Came in town for Life is Beautiful on Friday and Saturday night with from Heineken. We had Sunday night free so we contacted our favorite host Rene to get into XS Vegas for the night swim party. We had a big budget for 30 people but the problem is we wanted to ensure that we had 2 dance floor tables near each and wouldn't be able to arrive until 11:30pm-12am for XS bottle service. Within an hour we got a call back from Rene confirming the only way to pull it off was for the tables to be taken at 10pm. He understood we couldn't make it so he gathered some friends and took the table for us until we arrived and didn't drink a drop of our liquor.
Rob Amato