Rehab Las Vegas Cabanas


   
If you leave the Hard Rock Casino and you don't find out about the Rehab Las Vegas pool party until after you leave, you'll kick yourself for it for the rest of your life, so consider this a public service announcement: do not leave the Hard Rock without swimming a few laps after stepping outsider of your Rehab Las Vegas cabanas.
Let's jump right into the real heart of what booking Rehab Las Vegas cabanas is all about "The events". We're talking about the best locations for appearances from people like Diddy T-Pain, Schoolboy Q, and birthday celebrations for Snoop Dogg. Even if you're not booked in time to catch a great show, the club is sizzling hot for the entirety of the pool party season. The grounds are packed with cabanas and daybeds, lush landscaping and banquettes. Whether you're here to party or here to chill, a Rehab pool party Las Vegas is always the best options.
The Hard Rock pool party claims to have invented the day life in our city. Whether or not you take that with a grain of salt, it's hard to argue that they haven't totally nailed it when you check out the Rehab pool party cabanas. If you want to feel like you're lying in the soft white sands of a Florida beach, right in the heart of the desert, then Rehab is the place to be.
Admission starts at thirty bucks for ladies and fifty for men. There are cheaper pool parties, but there aren't many that are as glamorous as Rehab pool party Las Vegas. There are also group discounts and deals on cabanas available. Getting on the guest list can be a bit of a pain, but hey, that's what booking services are for, right?
Many of us have had a disappointing pool party experience in the past. Lukewarm water, second rate entertainment, guys running around in speedos and bartenders who don't even know how to pour a beer without it going flat. A Rehab Las Vegas cabanas are the perfect antidote for all that: a luxurious pool party experience with some of the best food, best drinks, best atmosphere and best entertainment you're going to find in the city.
Rehab Hard Rock Events
The Rehab Las Vegas pool party is currently open to the public weekly on Friday-Sunday from 11:00am-5pm. Often booking commercial acts Saturday-Sunday nights like P. Diddy & Pitbull so this pool party is always packed. The Rehab pool party is also known as one of the top destination for EDM music in our city. Rehab Las Vegas cabanas are a great option for any weekend or Holiday plans. Our staff always ensures you have the best locations and pricing possible.
Or call a VIP specialist at 702-907-0023
Cabanas at Rehab Video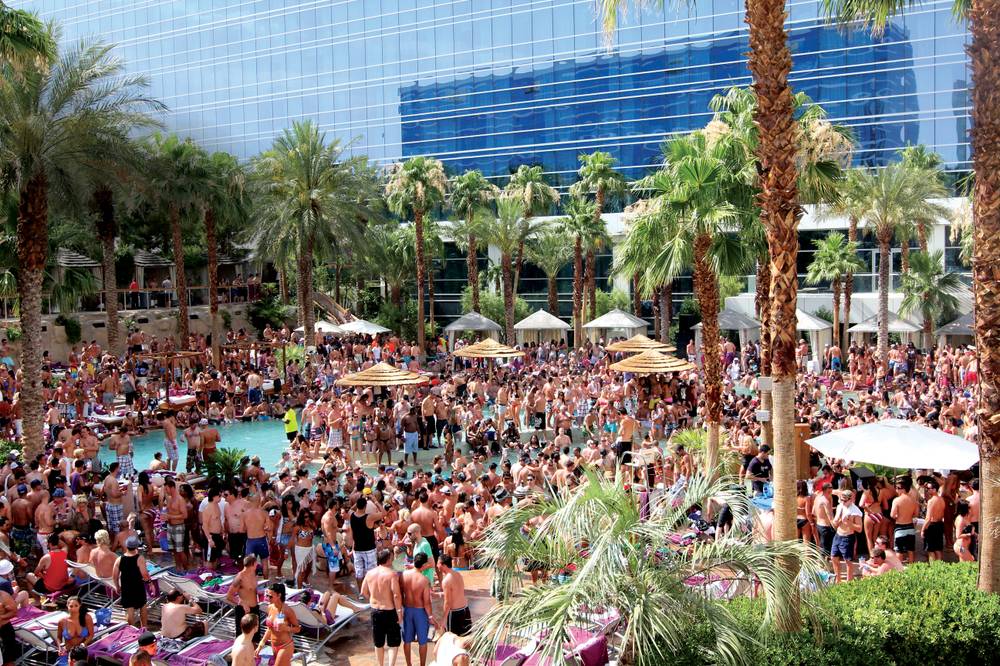 Rene thank you for taking care of us at Rehab pool party cabanas this past weekend we had a blast. We originally wanted to go to Encore Beach club but we aren't big House music fans. We wanted live performances and hip hop music and the Rehab pool party Las Vegas was the perfect fit for our needs.
Alyssa Crisologo
Our old host and Las Vegas connection no longer works in the industry so we were forced to look online for access to the Rehab Las Vegas pool party. We talked with several companies but we loved the approach that BSV gave when talking with us. They answered out questions with confidence and didn't try to over sell the Rehab pool party experience to us. Thank you again and we will follow you on IG ASAP!
Daniel Cardenas
The Rehab hard rock pool party was an amazing choice for our vacation getaway. We played volleyball and raced electric boats for some competition they hosted on a Wednesday afternoon. I'm not usually a pool party person so I knew to book Rehab Las Vegas cabanas in advance. The bottle service deal that we set up with BSV worked out perfectly. We will use your services again in the near future especially if we want to head back to the Las Vegas Rehab pool party.
Justin Rex