This ultimate guide will go through everything you need to know about Las Vegas cabana prices at pool parties in Las Vegas, NV.
As the days get longer and the temperatures rise in Vegas, there's no better way to beat the heat than with a dip in the pool. But seeing as how this is Vegas… just taking a swim isn't enough! Practically every hotel that has a pool has a party to go along with it.
---
What are pool parties exactly?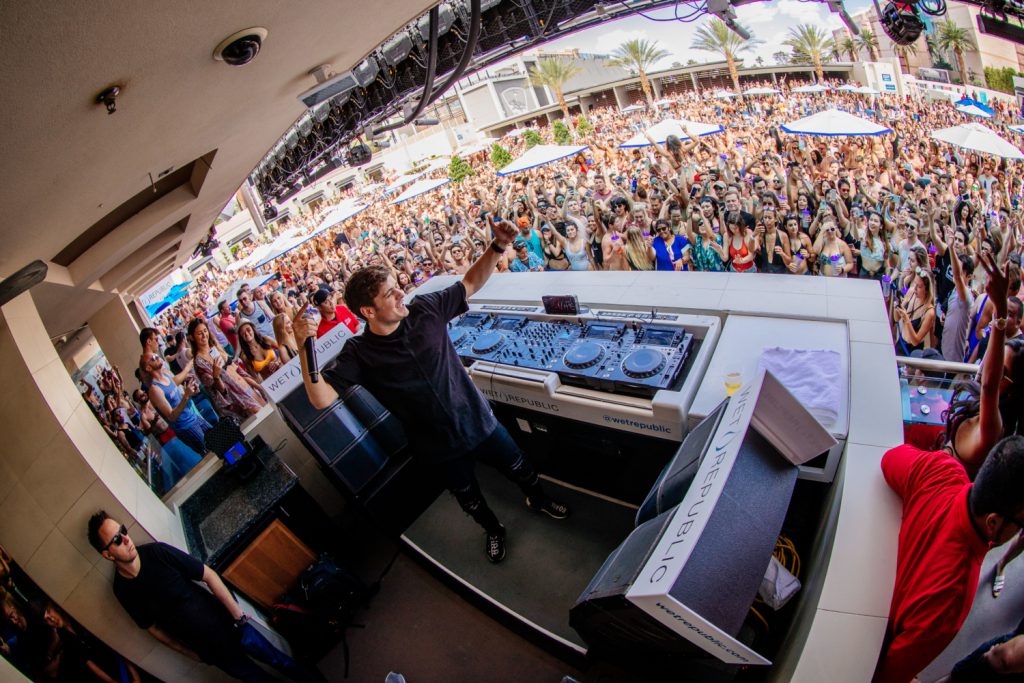 Pool parties, also known as beach clubs or day clubs, are essentially outdoor nightclubs with a live DJ, dance floor, bars, pools, and a crowd ready to party it up!
If you've never visited a pool party in Vegas or elsewhere, this is your chance to party at some of the craziest parties of the year.
When are pool parties open?
Pool parties are open during the warmer months in Las Vegas between March and September. Sometimes the pools will stay open until early October.
In the Midwest, March is the halfway point of Winter. In Las Vegas, it's the first month of pool season. The time to find the best pool parties in Vegas starts with Spring Break in March.
Are there pool parties during the off season?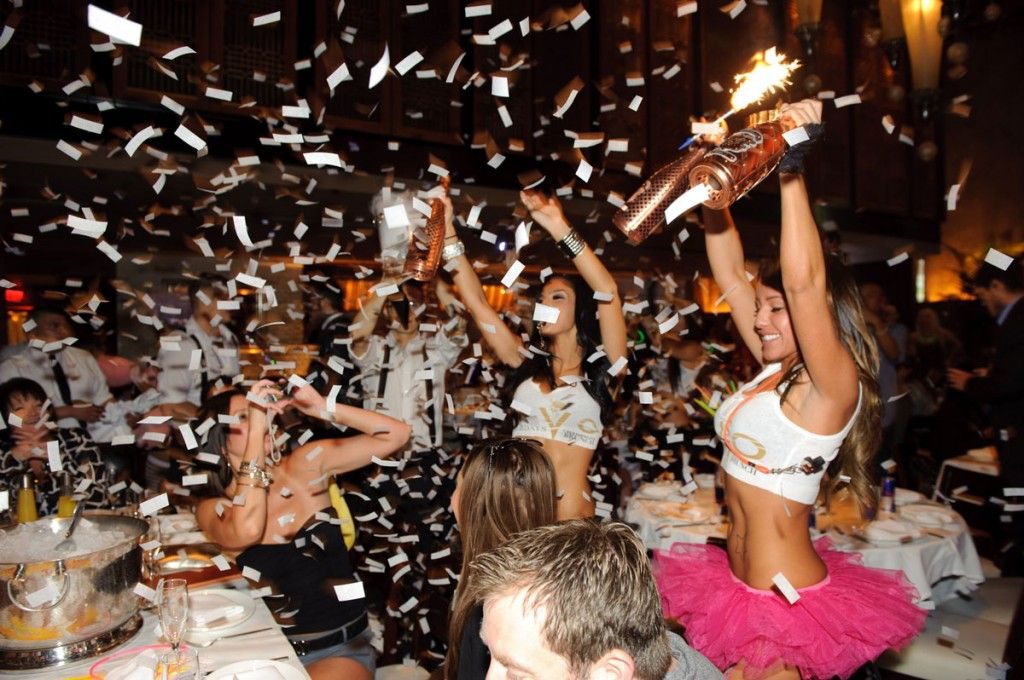 Pool season is over, but you're still coming to Las Vegas? Don't worry! Vegas created a new way to party during the day in the cold winter months.
Dayclubs are indoor parties that block out the sun and party as if it was 1AM. Dayclubs like LAVO Champagne Brunch are a new option to the Vegas party scene and they have been welcomed with rave reviews.
These parties include cryo-guns, smoke machines, glow sticks, wigs and costumed characters. There is a good chance that when you enter the madness you will be sucked in and crowd surfing over the entire room. If we had to sum this all up in one word, it would be "insanity"!
Some hotels have heated pools that are open all year long as well but there's no real pool parties with DJs and all.
Reasons Why You Should Visit a Pool Party in Las Vegas
An outdoor party under the bright sun? Sign me up.
Sure, nightclubs are fun and all but there's nothing better than partying it up during the day. There are nightclubs in every corner in the world but pool parties aren't as common – take advantage of it while you're right here in Vegas.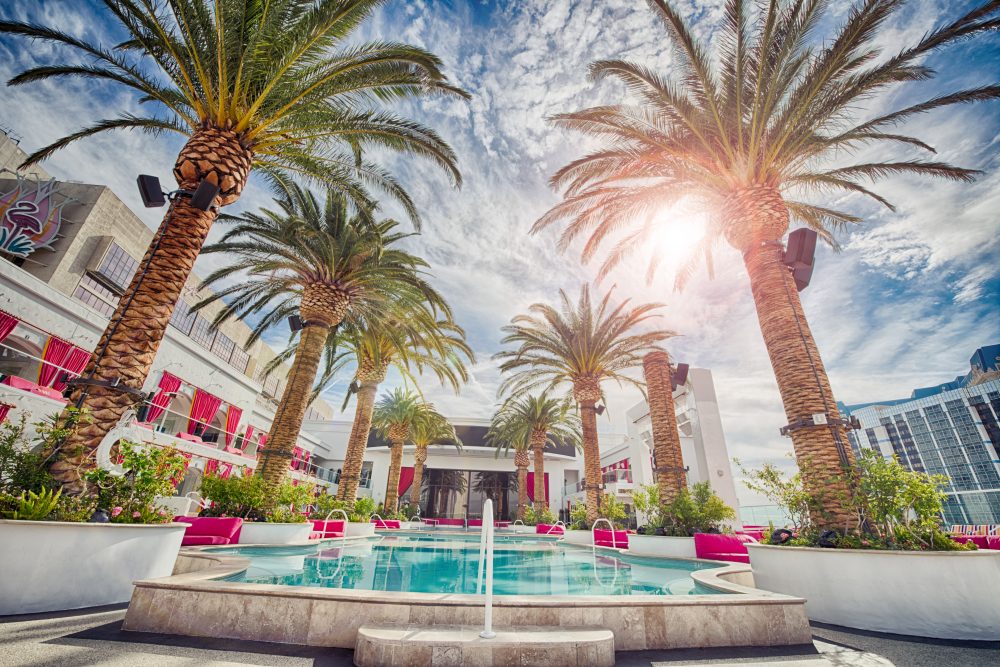 Craziest day parties happen at the pool parties
Guaranteed party to remember
VIP tables are available at every pool party
World renowned DJs, Artists and Live Performances
Soak up the sun and tan all day
Cool down by dipping into the various pools
You get to show off that body you worked so hard for!
Are there lame Las Vegas pool parties? Sure, but that's why we created this ultimate guide to make sure that you know which Vegas pool parties will be remembered for, and to make sure that you get the royal treatment between laps.
Pool Party VIP Packages
If you don't book in advance, if you don't keep on top of Vegas party news, you might miss all the best Vegas pool parties has to offer. You've got to have a plan if you want to have a good time in Vegas, but planning is boring. That's why local party planners exist: they plan, you party.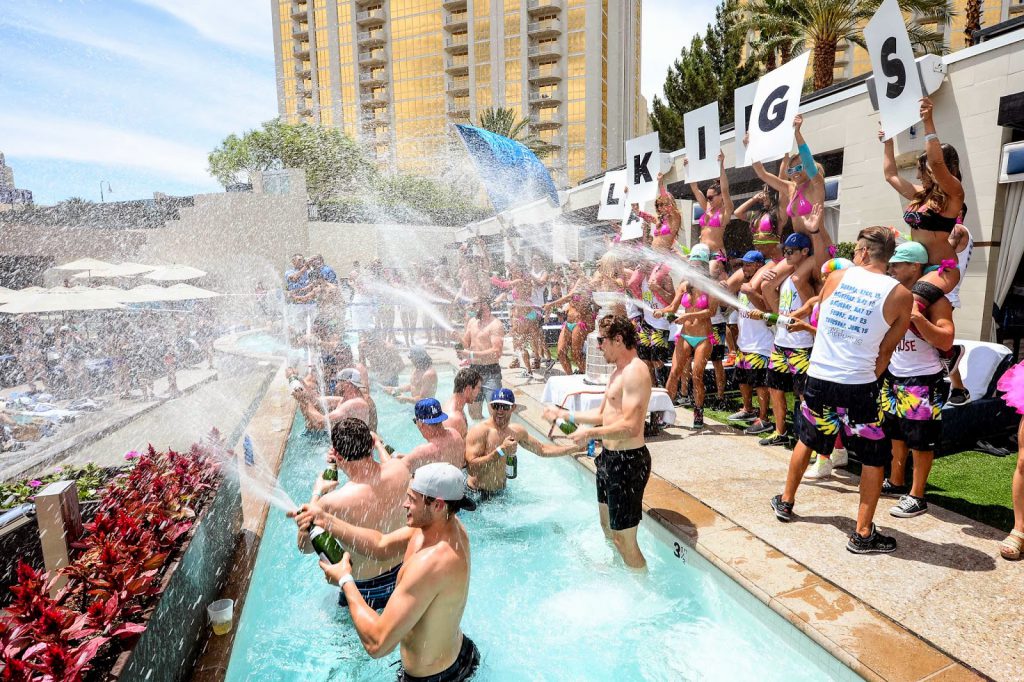 Our advice: don't risk missing out. Booking a pool party package is worth it.
Benefits of having a pool party planner:
Hassle-free VIP experience
Insider tips and deals not offered to the public
Fast entry: Skip the waiting line
VIP table: Reserved seating area for your group
Bottle service: Order your bottle and drinks from your table. No need to fight the crowd to get to the bar
Food service: Order food items from your table
Able to book everything with one company
Trustworthy and reputable company
All inclusive pricing with no hidden fees – Best prices in the city
Book your whole trip including nightclubs, pool parties, strip clubs, hotels, limousine, tours, and activities
Your pool party package will be uniquely customized for your group. Your party planner will recommend some different suggestions and packages based on your preferences and budget.
Contact for exclusive pricing. Packages are all-inclusive with no hidden fees
---
Table Reservations and Bottle Service Options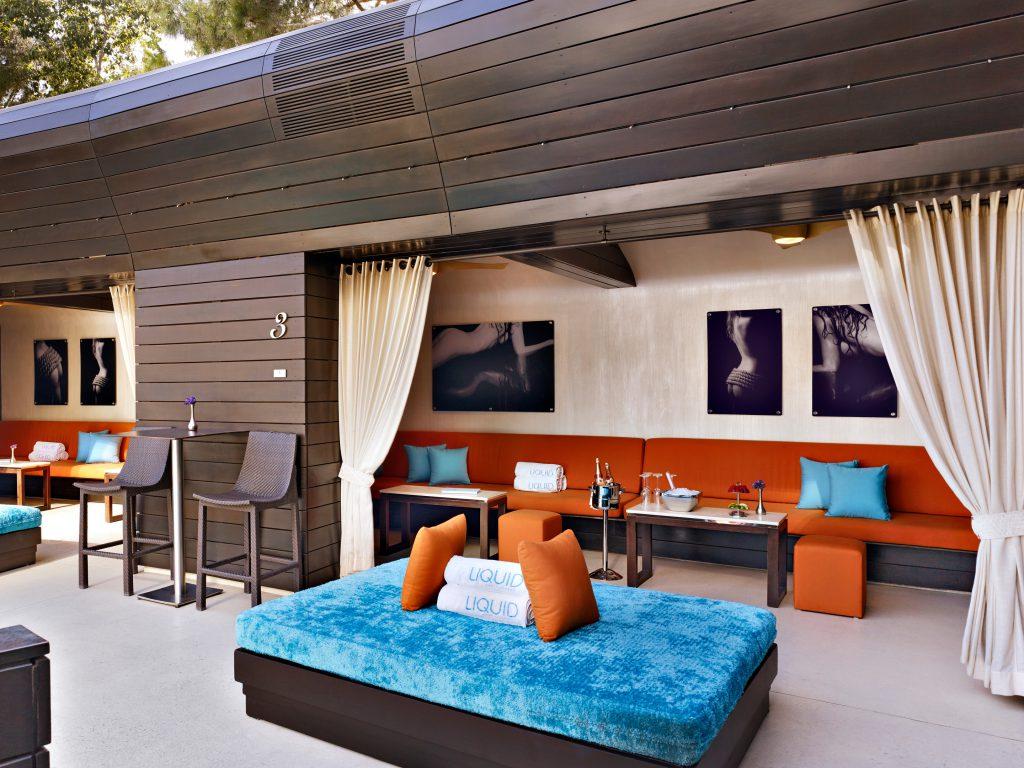 Not all table reservations are equal! In Vegas, the pool parties offer different options ranging from budget-friendly tables to premium VIP bungalows.
Daybeds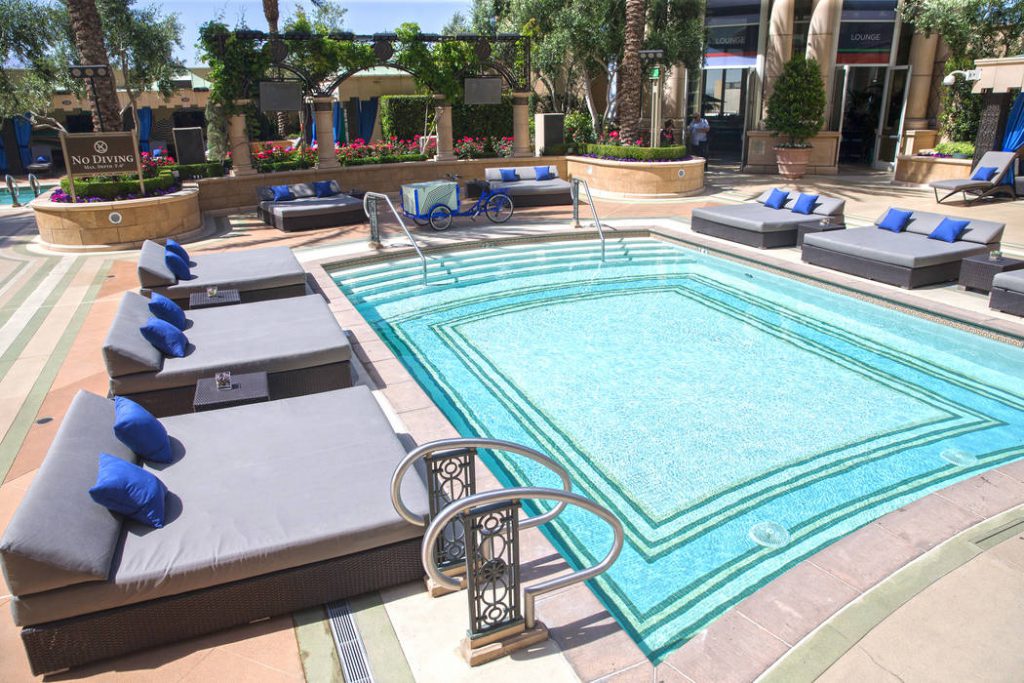 Daybeds are the best price/value table reservation for most people. Daybeds are a large queen or king sized bed with pillows, allowing you to soak up the sun all day long. A small side table will be next to the daybed for your drinks and bottle service. There's usually no shade with daybeds other than a parasol nearby.
Lily Pads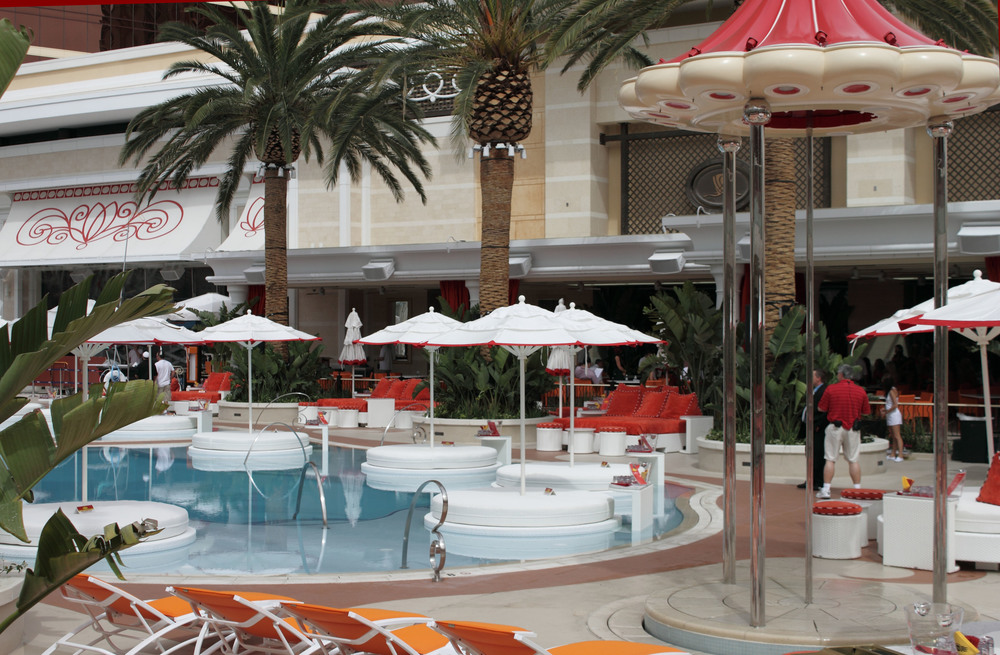 Lily Pads are only available at a few pool parties in Vegas. It is a rounded daybed that is floating on the water. The best part is you're able to dip your toes in the water at the same time. Just be aware that when the party is kicking, water will be splashing everywhere!
Booths & Couches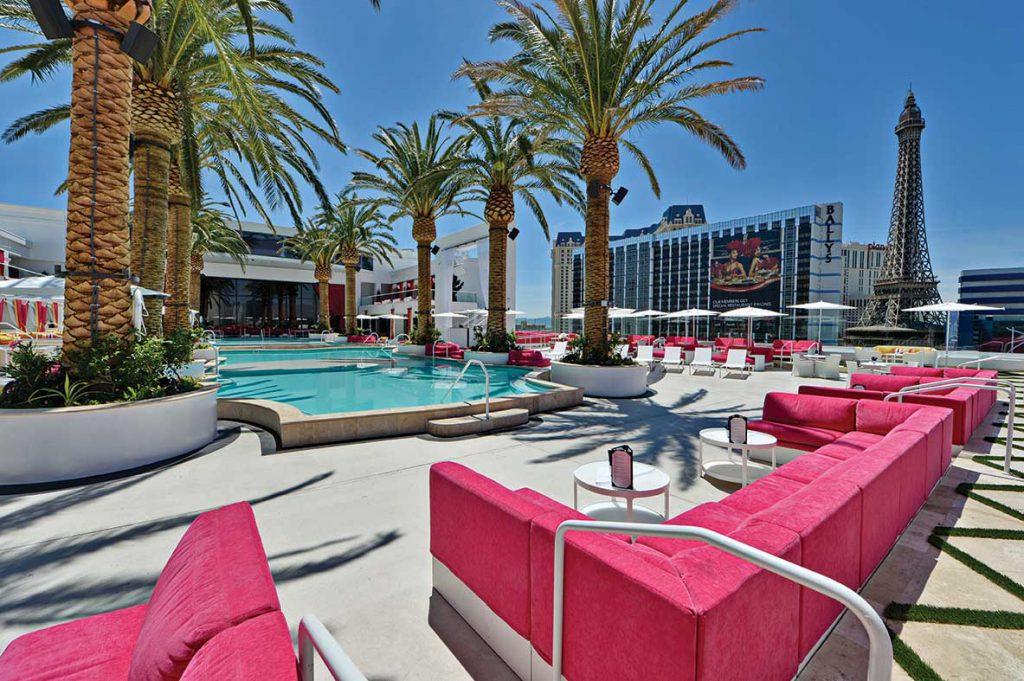 Booths and couches are usually L-shaped or U-shaped lounge sofa with a small table for your drinks. Booths are a great budget option and are often near the pool area.
Cabanas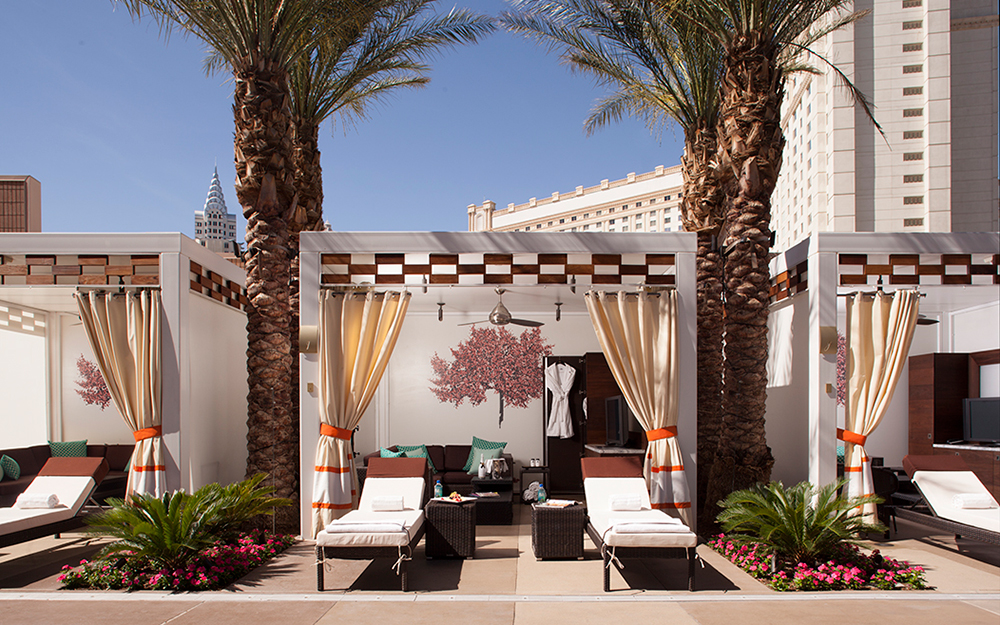 We're not talking about a dinky little tent beside the pool, we're talking about large cabanas with full food and beverage service. Most cabanas will also have TV, air conditioning, and phone chargers available. Cabanas are the most recommended table option for people looking for a more premium experience.
You can stay in the shade for when you're done soaking up the sun and need to chill out for a second, in style. Cabanas are usually located in a "prime location" which gives you a great view of the pool party.
Some pool parties will have "lower cabanas" and "upper/mezzanine cabanas". Lower cabanas are on the ground floor where all the action is. Upper and mezzanine cabanas are on a higher floor that overlooks the ground floor. Both lower and upper cabanas are great options.
Due to high demand, Las Vegas cabana prices tend to fluctuate often. If you decide to book a cabana, book early!
Bungalows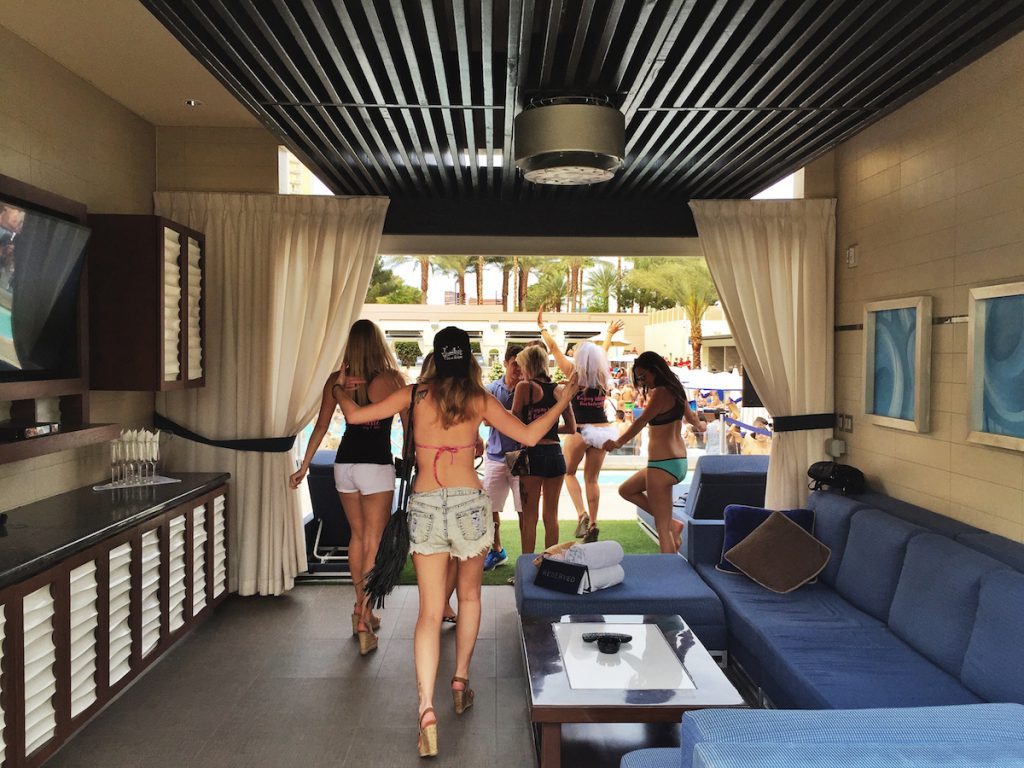 Think of bungalows like a big upgrade over cabanas. Bungalows are usually more spacious and sometimes, have their own separate private pool. Bungalows are usually the most expensive option at any pool party in Las Vegas.
Bungalows are highly recommended for larger groups and is the ultimate premium experience at pool parties.
What about guest list or tickets?
When you book a package that comes with bottle service, you won't need either guest list or tickets.
These pool parties are going to be packed, and this means that…
There's no guarantee that they will honor your guest list or ticket entry
Even if you do get in, you're still going to have to fight the crowd to get your drinks in a timely manner, and you're going to have to sweat it out poolside when you're not swimming
It's HOT in Vegas. No one wants to fight through a sweaty, wet, and rowdy crowd to buy a few drinks. Our previous guests have complained that it is such a bad experience that we don't bother recommending either guest list or tickets anymore.
In short: If you want to make sure you're at the best pool parties in Vegas, get in contact with one of Vegas' best pool party planners to book a table reservation here.
The definitive list of the top pool parties in Vegas
Every year, Vegas invites the top DJs and artists to perform at their pool parties. This year, we can expect top name DJs such as Calvin Harris, Tiesto, David Guetta, The Chainsmokers, and Zedd.
Many other DJs will be in Las Vegas this year, spinning at some of the best pool parties in Sin City. If you're a hardcore fan of EDM, then you're not going to want to miss what Vegas has to offer this year.
In our opinion, some of the best pool parties in Vegas to take in this year will include:
Wet Republic, the premier pool party with top EDM DJs every weekend
Marquee Dayclub known as the #1 destination for house music in Vegas
Encore Beach Club, the sexiest and most elegant pool party in around
KAOS Dayclub, the latest and newest pool party in town
Drais Beach Club, the only rooftop pool party in the city located in the center of the strip at the Cromwell
Pool party season in Las Vegas is ready to get popping any day now. To be known as one of the best pool parties in Vegas these venues have to put alot of money behind their brand. We're talking about some incredible entertainment hosted by some of the best clubs in the city (which would place them high in the running for best clubs in the world).
Curious about where the top pool parties in Vegas are? Here's just a taste of what you can expect this year: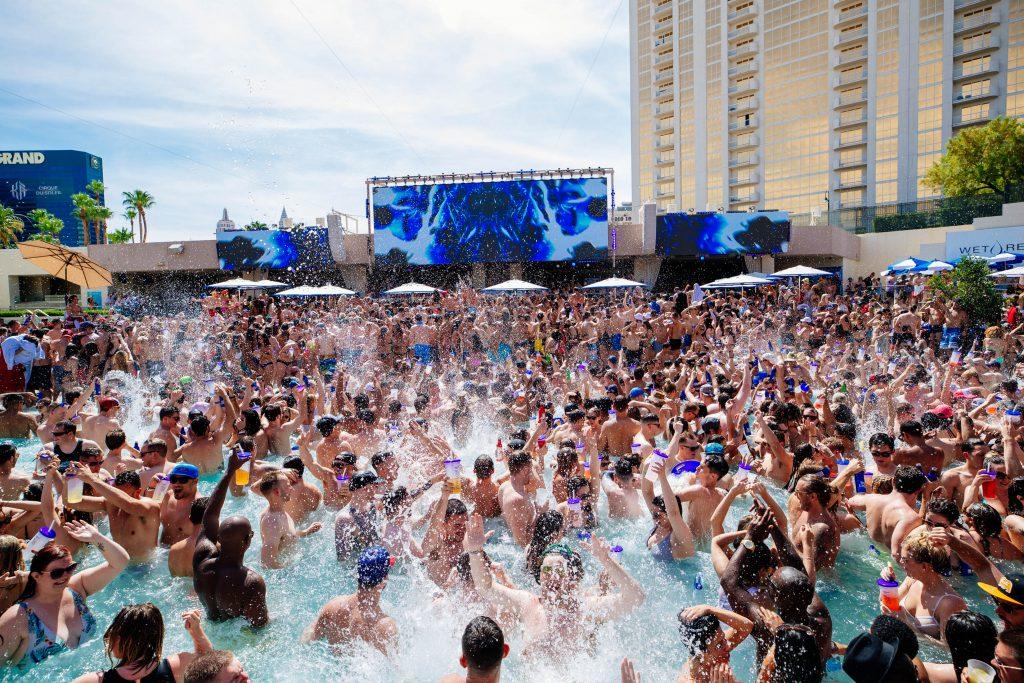 The MGM Grand is often touted as being "Like Nowhere Else", and Wet Republic is proof of this. With its 53,000 square foot ultra pool, eight separate pools and spas, two saltwater pools –first of their kind in Vegas!-, a 4,100 square foot sundeck, and a 2,500 square foot open-air ultra lounge, the MGM continues to redefine what it means to be one of the top Las Vegas pool parties.
Wet Republic quickly earned the reputation as Vegas' "it" pool party and after four successful seasons it remains a must-stop for party goes. From introducing what are now some of the biggest names in electronic music at Wet Republic such as Calvin Harris, Tiesto & Marin Garrix.
Wet Republic Las Vegas at the MGM Grand has redefined the modern pool party and has been known to drive thousands of people to the city every week. If you're planning a Vegas trip soon, then it would be insane to over look events in Las Vegas with names like Calvin Harris and Tiesto.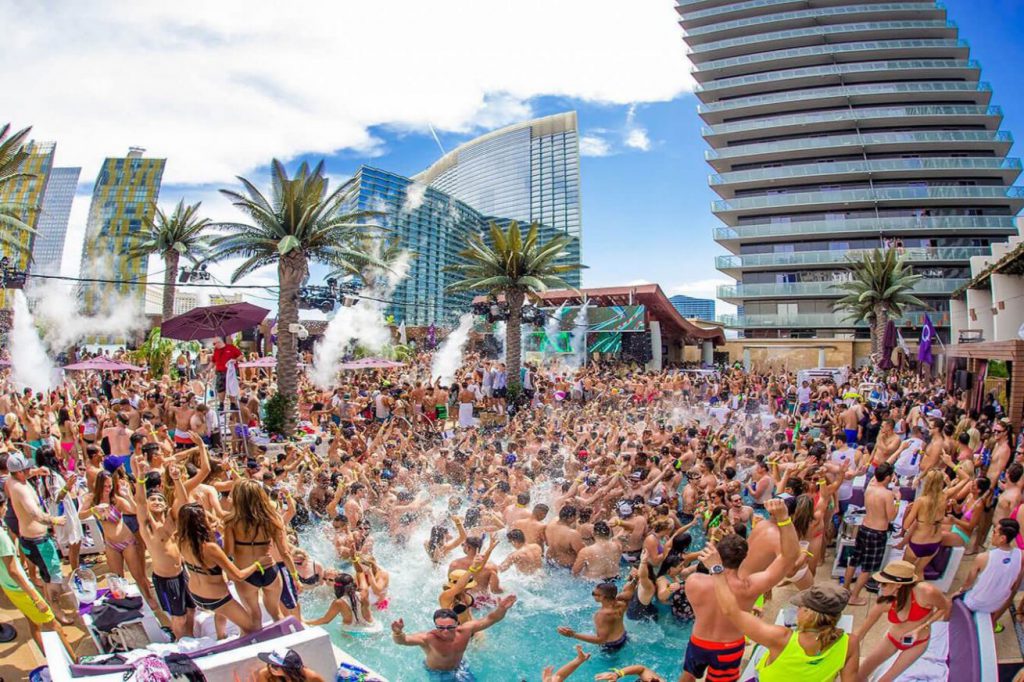 Marquee Nightclub transitions to a dayclub while the sun is out. Here, you can enjoy a lavish, adults-only facility that features inviting sun beds, a gaming area, and two pools, all set to renowned DJ talent. Want a more upscale experience while at one of the top pool parties in Vegas? Check out the club's 8 cabanas, with their own infinity pools, or the 10 3-story bungalow lofts, each with their own party deck.
Marquee Dayclub pool is a Las Vegas Strip pool that features three-story Bungalow Lofts, complete with cabana, living quarters, grand Las Vegas pool cabanas with infinity pools and a party deck on top.
Are you looking to jump right into things and party hard? KAOS Dayclub is the latest and greatest pool party in Las Vegas.
Drop into the main pool where you will dance the day away while listening to beats from DJs like Marshmello and Kaskade spinning at the adjacent DJ booth.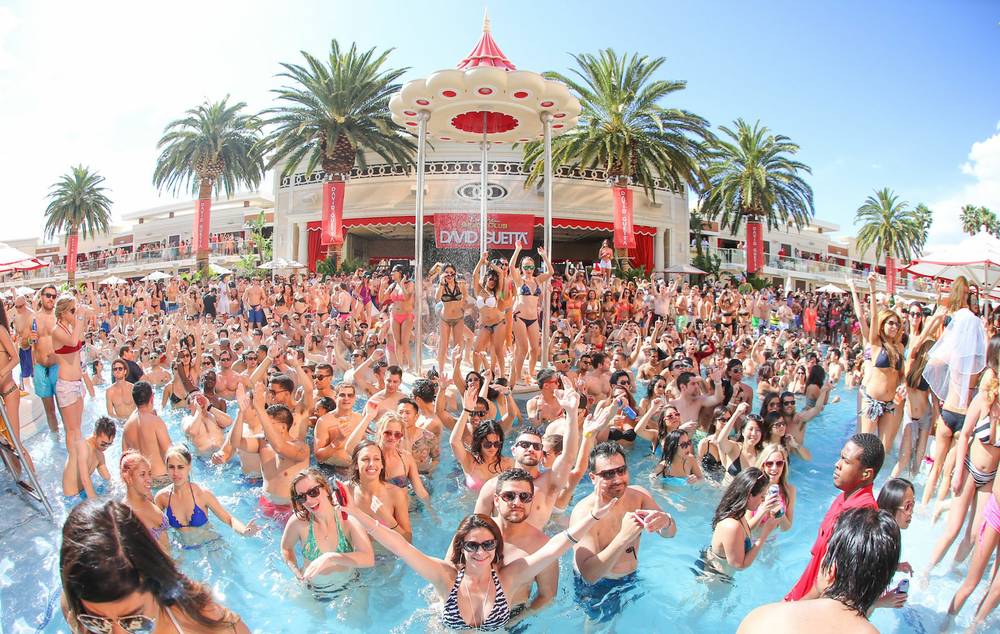 Boasting a 60,000 square foot venue, the Encore Beach Club has three tiered pools surrounded by 40-foot palm trees; the pools themselves are surrounded by chaise lounges, couches, and day beds all featuring private safes. Looking for a cooler spot? Lounge on one of the lily pads floating in shallow water, dance a bit under one of the shower poles, or try your luck in the gaming pavilion. For VIPs, Encore also features 26 cabanas outfitted with refrigerators and flat-screen televisions.
Encore Beach Club is a luxurious pool venue with an upscale party atmosphere reminiscent of European hot spots. Encore beach club has set a new standard for Las Vegas, quickly establishing itself as the premium choice for trendsetters seeking the ultimate daytime beach party.
Encore Beach Club at the Encore Hotel and Casino is the #1 pool party in Las Vegas with around 60,000 square feet of space filled with lush pools and over 20 luxury cabanas. If you're not planning to book a cabana or daybed we highly suggest you plan on early arrival to gain access to this venue between the hours of 10am-1pm. With major DJ residency announcements from some of the top names in EDM Music like David Guetta and Diplo, you definitely don't want to miss this. They host some of the most amazing events in Las Vegas or even on the strip on a weekly basis.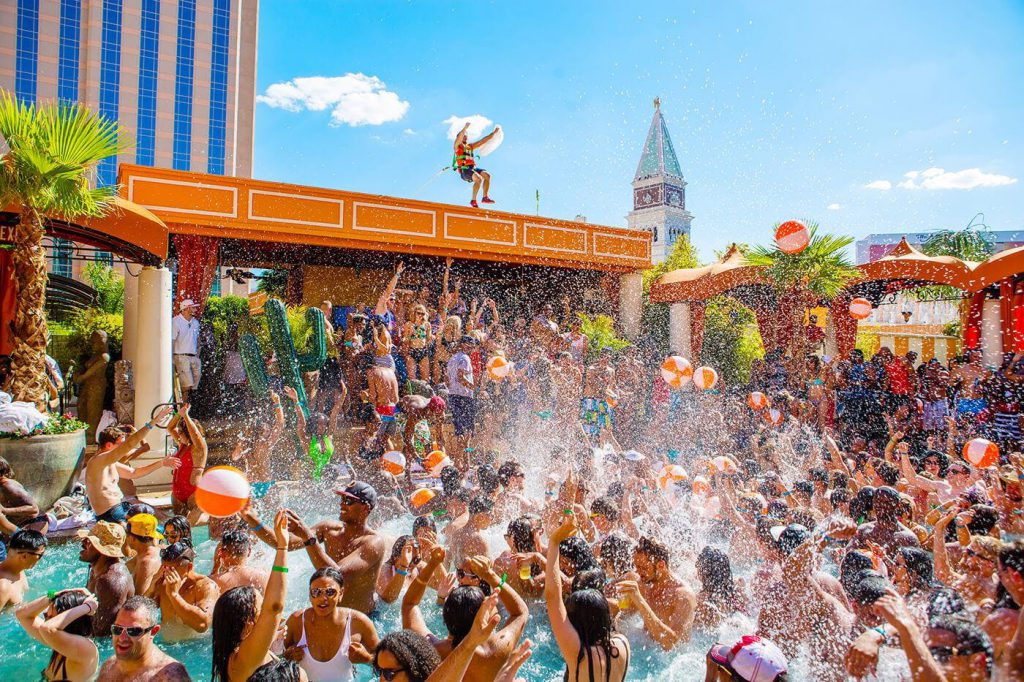 Located atop the Tao Asian Bistro and Nightclub at the Venetian, TAO Beach promises to be "the hottest pool party in all of Sin City". The 30 foot bar and 18,000 square feet of space ensure everyone will have a prime spot for the party, and the 12 air-conditioned luxury cabanas provide a respite from the heat and the crowds.
TAO Beach features all of the attention to detail, service and décor that have made TAO Las Vegas the place to see and be seen for the jet set and celebrities like Heidi Klum, Jay Z, Jessica Simpson, Michael Jordan and hundreds of others since opening in September 2005.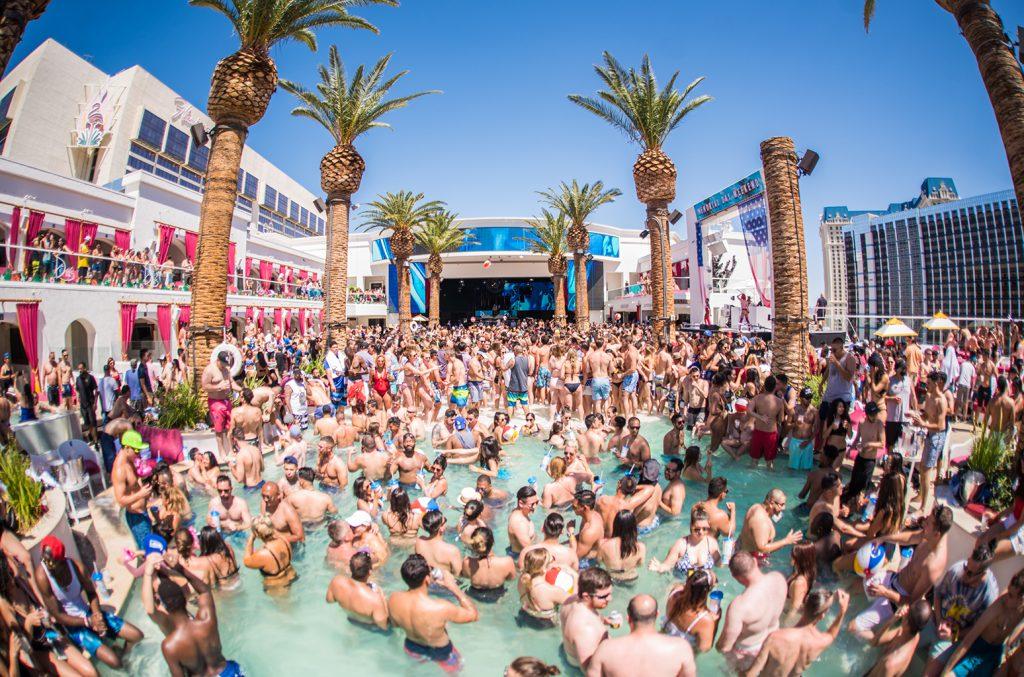 Perched 11 stories above the Las Vegas Strip, the 65,000 square foot Drais Beach Club at the Cromwell entertains party goers both day and night. This multi-level indoor/outdoor club features panoramic views of the Las Vegas Strip easily making it one of the top pool parties in Vegas.
The lower level consists of two large, elevated main pools and ten VIP luxury cabanas and bungalows. The mezzanine level contains 15 VIP cabanas and a private, VIP-only pool.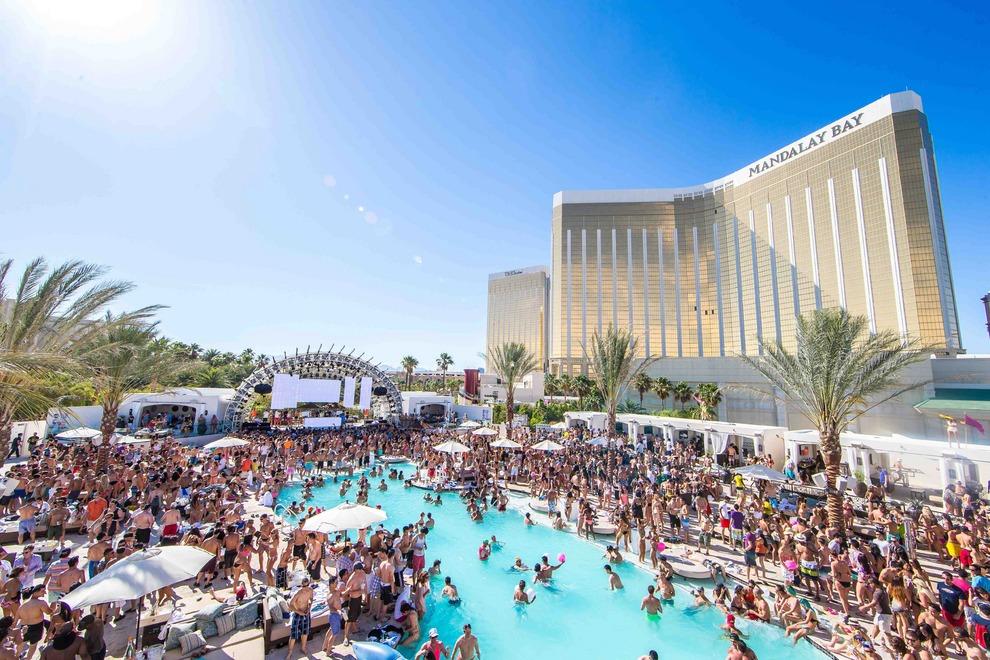 Located at the Mandalay Bay Resort and Casino, this pool party has become the ultimate outdoor destination in Vegas. Along with its luxurious 4,400 square foot pool, Daylight Beach Club offers a 1,500 square foot elevated stage with unobstructed sight lines.
Surrounding the pool are 70 daybeds and 25 cabanas and bungalows, all served with signature cocktails and cuisine.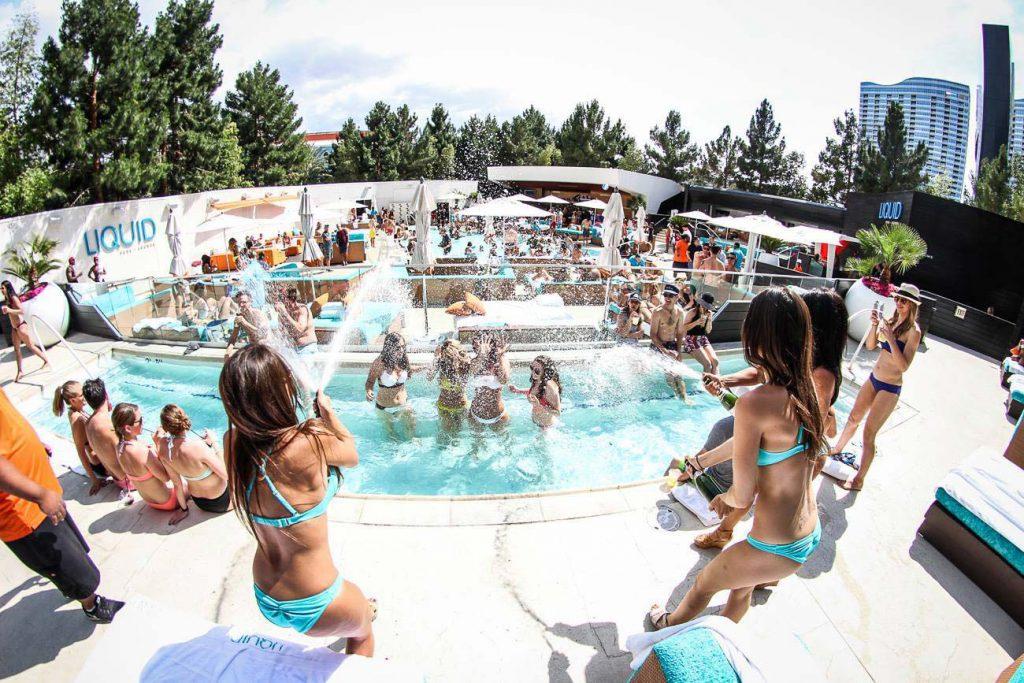 Located at the Aria resort, Liquid provides a quiet, luxurious experience. Along with the 50 seat Liquid restaurant and 1,200 square foot main pool, this club offers 8 grand private cabanas, each of which has its own mini-fridge and 40" flat-screen TV. In addition to the cushy day beds, the entire property is internet-ready, perfect for updating Facebook while you relax at one of the top Vegas pool parties.
Liquid Pool & Lounge, the adults-only outdoor playground at ARIA. Enjoy poolside pampering and daytime indulgence in this secluded, seductive and sizzling environment.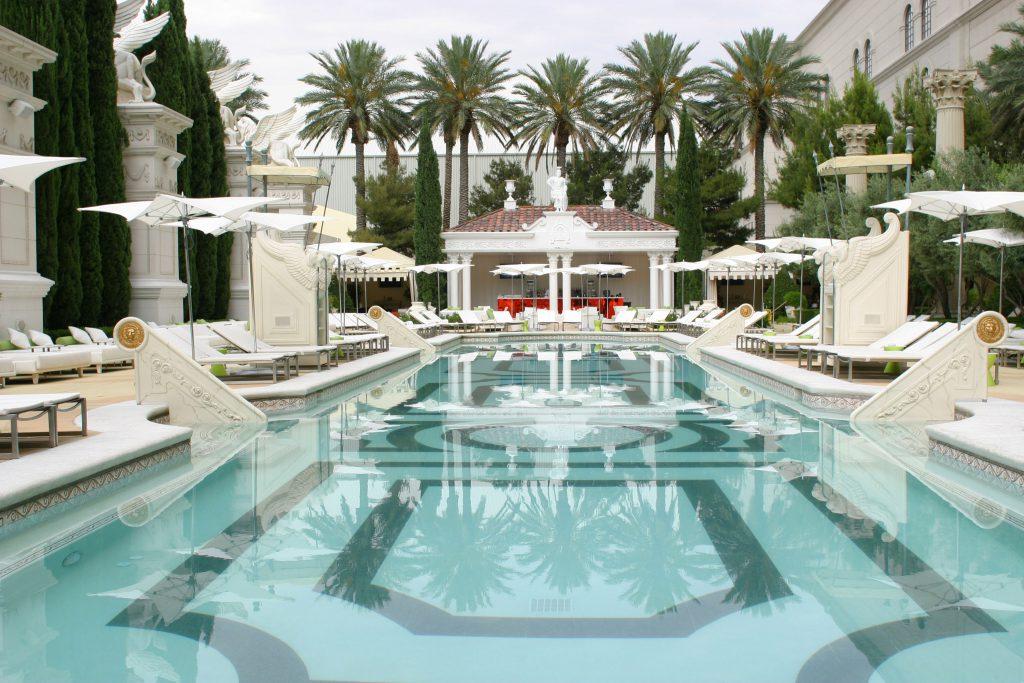 Located at Caesars Palace, this 10,000 square foot party boasts an Olympic-sized pool, 14 cabanas, 10 couches, 16 daybeds, and an abundance of chaise lounges. With high-end cuisine and VIP services, it's easy to feel like a god or goddess at this party.
Venus at Caesars Palace provides a luxurious poolside paradise perfect for sun worshipers 21 and up. Surrounded by lush greenery, Venus is a European style pool with posh cabanas, oversized chaise lounges, and an air-conditioned bar with flat screen TVs.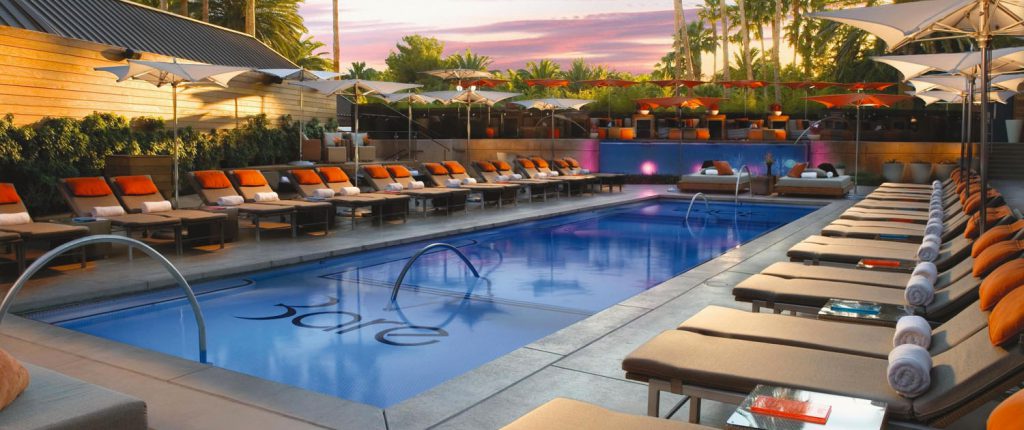 Bare Pool Lounge at The Mirage offers an exclusive adult alternative to the typical Las Vegas pool experience. The ultimate in poolside pampering, Bare is defined by its distinctive contemporary ambiance and ultra VIP service.
---
Last few tips…
Stay hydrated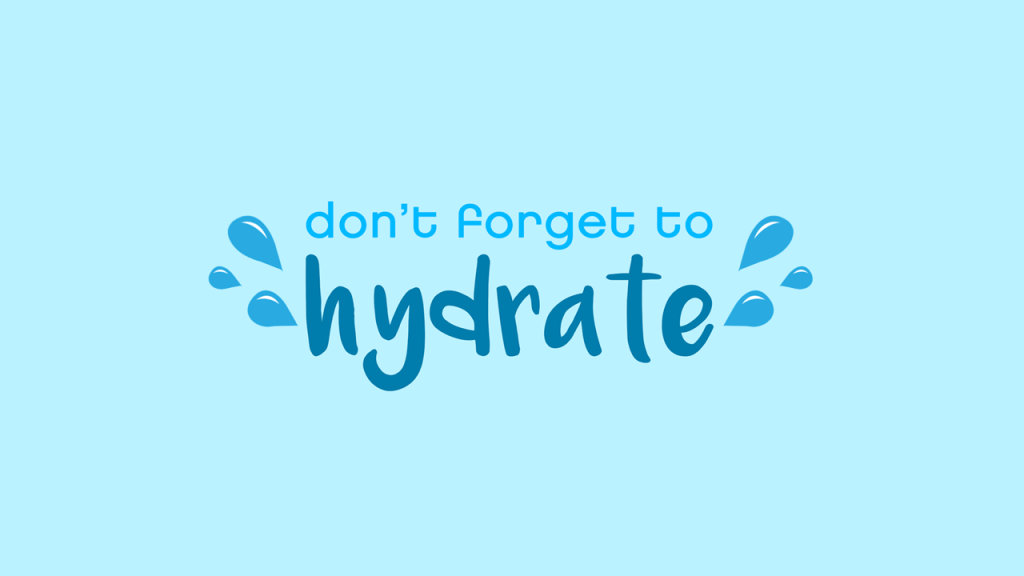 Drink plenty of liquids – especially if you're drinking alcohol. Las Vegas has a very dry climate and alcohol dehydrates your body. We suggest also buying a good amount of water bottles along with your drinks.
Get a pitcher instead of a bottle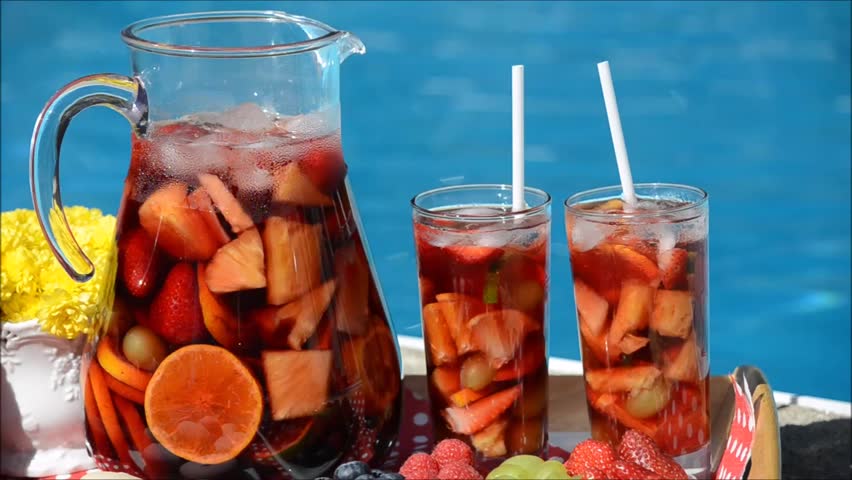 Instead of buying a full bottle of alcohol, you can order pitchers instead. Pitchers are refreshing mixed drinks that are perfect for pool parties.
Some pool parties also have frozen cocktails that are excellent and can be ordered in a pitcher format.
Order food from your table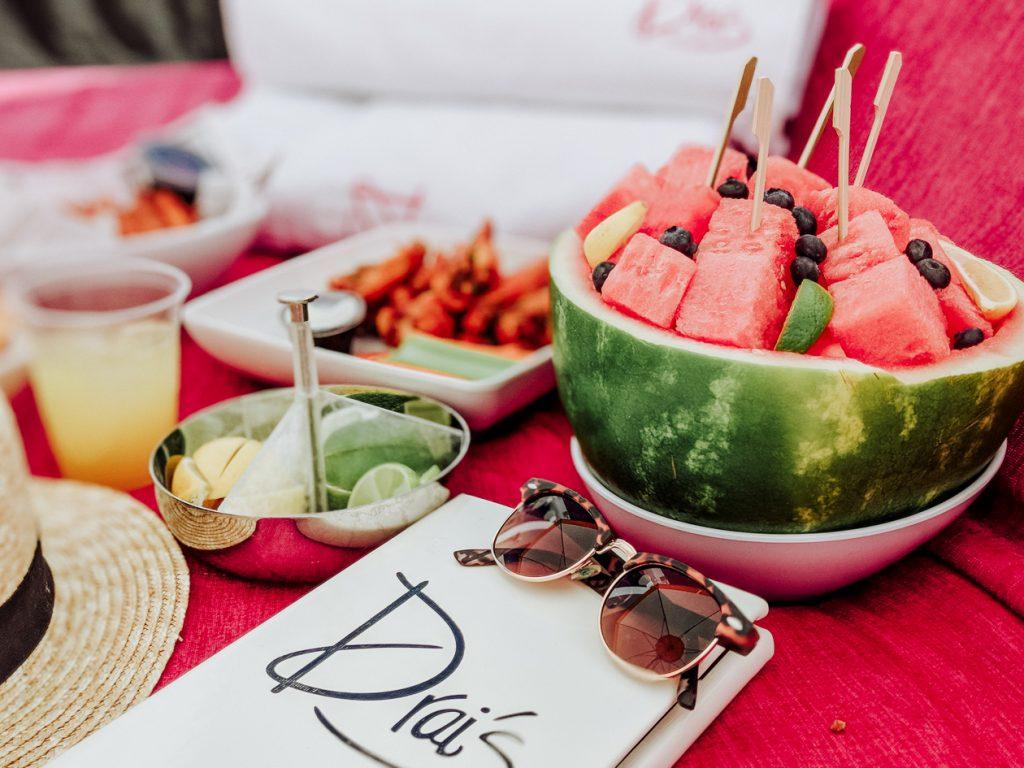 You can order a variety of food for lunch or snacks directly from the comfort of your table. We recommend ordering some fresh fruits along with a variety of small plates.
Just another reason why some people prefer pool parties over nightclubs!
Follow the dress code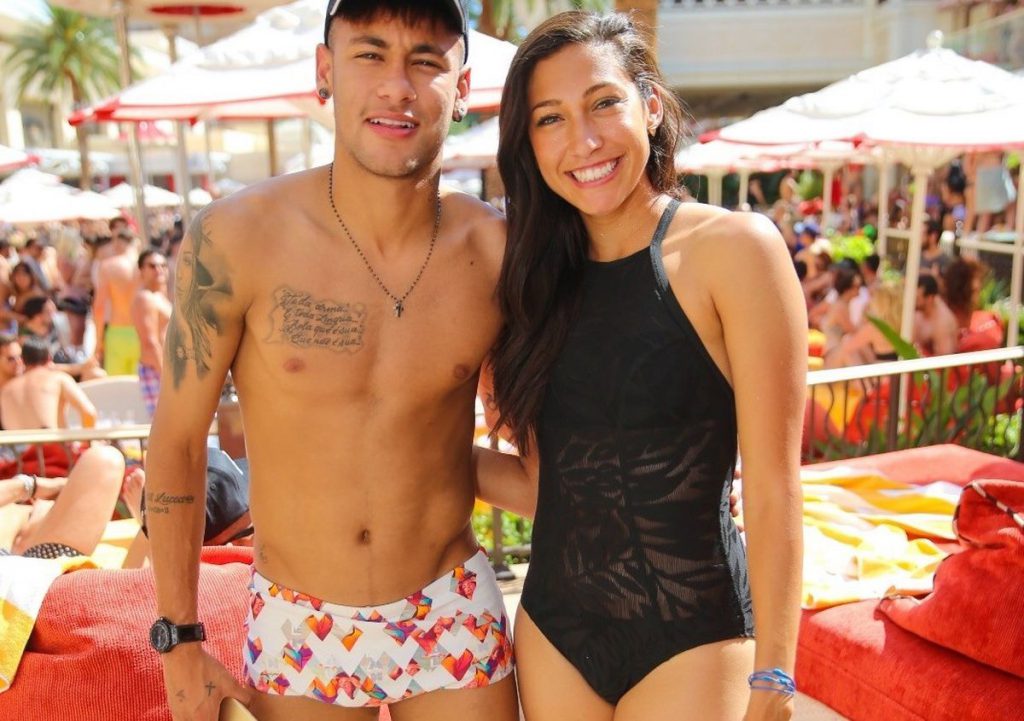 Swim attire only; no pants, gym shorts, or sports attire.
You can bring a light t-shirt or light top to cover up, if needed. Please don't be that guy who comes in a full suit at a pool party.
Arrive early
We suggest arriving as early as you can. You get to enjoy the pool party before it really starts to kick off. Plus, sometimes arriving early can get you a better table location.
Last Words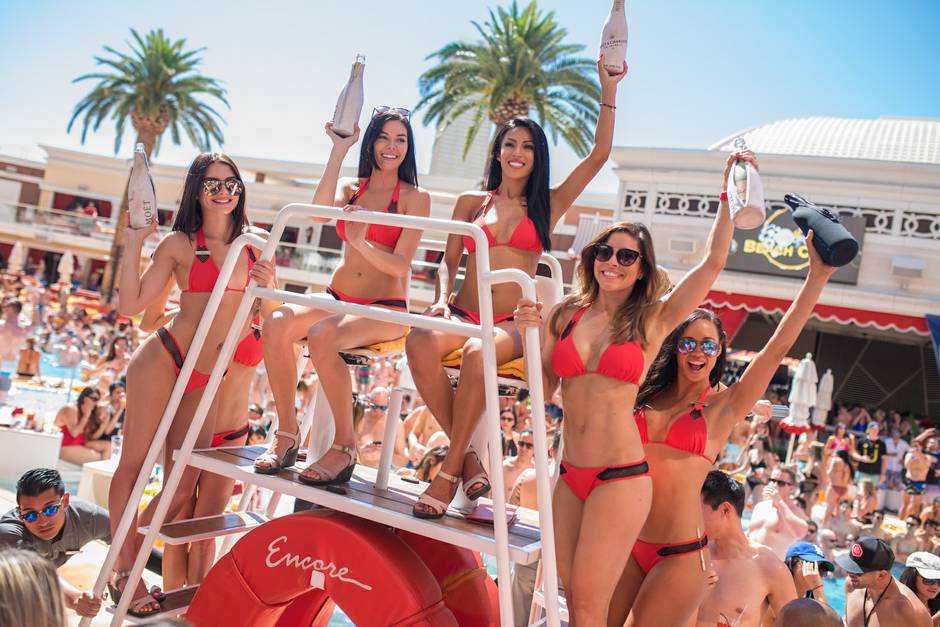 Whether you're celebrating a birthday, bachelor party, bachelorette party, or just coming to Vegas for a good time, make sure you come to at least one pool party.
Instead of booking your pool parties and outings on your own, we recommend you book one of our trusted pool party planners. We researched each and every pool party host in town and selected a short list of the best ones.
Interested in any of these top pool parties in Vegas? Want to know how to get the ultimate VIP pool party experience? The pool party hosts has all the right connections that can get you the red carpet treatment, no matter where you go.